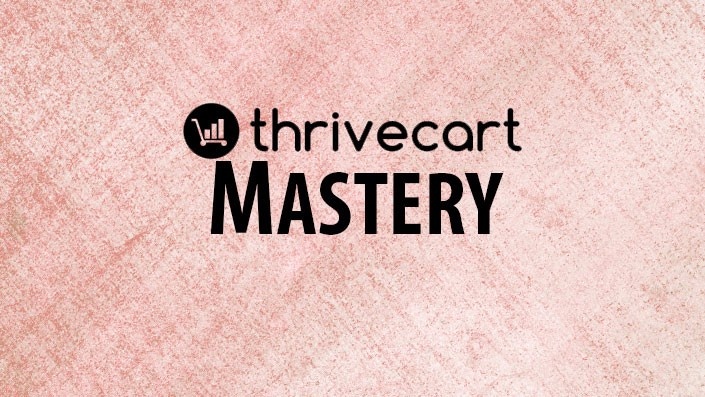 ThriveCart Mastery
Master ThriveCart and creating amazing funnels and checkout carts! Plus several amazing bonuses and tutorials to help you sell more.
It's funny how such simple little things can make such a massive impact...
For example, we created a checkout cart for a product that we were selling at a discount. The product was normally $29 and we discounted it down to $19.
The promotion was going well but Josh told us to test something...
He said "make the cart say $29 and then add a coupon code that takes $10 off to make it $19"...
This single tweak caused our checkout conversion rate to double!
With any existing cart platform that's out there, you'll have to pay anywhere from $200 a month and up to just have the ability to make that single, tiny, little tweak... It's nuts!
...And that's exactly why we are such huge fans of Josh Bartlett's ThriveCart.
It's a checkout tool that's less expensive than every other checkout cart on the market, it allows us to create coupon codes, upsells, downsells, video checkout pages, add testimonials to checkouts, collect additional info from customers and so much more!
It also integrates with practically everything!
It can push people over to a membership after purchasing, it can add new customers to my list, it can accept payments through Paypal, Stripe, and even freakin' Apple Pay! How cool is that?
Anyway, as one of the first beta testers of this new cart platform, we've had the chance to really put the thing through its motions and play with every feature.
We are not only massive evangelists for the tool, we're also some of the first users and most knowledgable people on the inner workings of the tool.
So, in order to persuade people to purchase through our link, we put together a massive training...
More on that in a sec...


"But what if I don't have a product?"


It's one of the most frequent questions we've been asked when it comes to ThriveCart...
The first thing that comes to mind is... it's not going to be this price for much longer, so you should grab it now for in case you need it later..
But, that's really not a smart way to make purchases... We all have tons of stuff on our hard drives because we grabbed them "just in case"...
Instead, we'll help you make use of it immediately...


Here's what to do to generate some extra revenue almost immediately:
(take notes)
Create a quick info-product... we'll show you how to do this in basically a single day in a series of bonus videos that we'll bundle with your ThriveCart purchase.
Toss the training into Teachable, a super simple membership platform (the one we're using for this page)...
Link ThriveCart to Teachable... we'll show you how in a bonus video when you grab ThriveCart.
Write a blog post that talks about the problem your product solves and the benefits that your product provides... (You can use Medium for free if you don't have a blog already)
Link from the blog post directly to your checkout cart.
Use some simple $5 Facebook "Boost Posts" to drive traffic...
People really overcomplicate this process when they don't need to... We've seen the best results when we keep it simple!
But it only works if you're using ThriveCart...
Now, Just to be clear, this page is not selling ThriveCart.
This page is offering a massive bonus package that you can access AFTER you purchase ThriveCart.
You will receive a special coupon code that will discount the price of ThriveCart Mastery down to ZERO.
You need to purchase ThriveCart through our special link to be eligible (or buy the bonuses at full price).


Here's a breakdown of all the training that's available:
(Plus more being added frequently)

Rapid Product Creation - This tutorial will walk you through the exact step-by-step process that we used to rapidly create products to sell online. Just plug the product into ThriveCart and it's ready to sell!
Killer Funnel Case Studies - A look at all the different types of funnels that you can build and some case studies of how we've used them in our businesses over the years. This will take the guesswork out of creating profitable funnels.
The Making of ThriveCart - This private one-on-one chat with the creator of ThriveCart will take you behind the scenes of how and why it was made as well as give you direct strategies from the creator on how to best use it.
Additional Tips & Case Studies - Having used ThriveCart ourself for the better part of a year now, we've learned a few little things that MASSIVELY improve conversions. We'll show you the little "Hacks" that we've learned to get your cart dialed in. We've also figured out a sneaky way to integrate it with Teachable to deliver your courses. We've created a step-by-step tutorial on how to do this...
It is a lot... We wanted to make sure that, if you purchased ThriveCart, you know exactly what to do next... No guess work.
Just follow the instructions and get down to business!
Here's the special link to grab ThriveCart and to access these bonuses.
Course Curriculum
Welcome / Group Details
Available in days
days after you enroll
Thrivecart Shared Carts
Available in days
days after you enroll
Templates
Available in days
days after you enroll